Family Thai Dinner
By Cheryl Tallman, www.FreshBaby.com
Food courses in Thai meals are eaten "in harmony", or all at the same time. This method is perfect for families – it provides variety and everyone can sit at the table to enjoy the meal together. Traditionally Thai dishes are artistically garnished, so add a fresh flower or fruit garnish for an authentic presentation!
Family Thai Dinner Menu
Sweet Pork (recipe below)
Coconut Rice (recipe below)
Steamed Broccoli
Fresh Pineapple
Sweet Pork (Moo-Wan)
This is a simple recipe from Northern Thailand that turns pork tenderloin into sweet perfection.
Ingredients:
4-5 shallots
1 pound pork tenderloin
3 Tbsp. vegetable oil
½ cup brown sugar
1 Tbsp. soy sauce
2 Tbsp. fish sauce
¼ cup water
Directions:
Peel shallots and cut into thin slices. Set aside. Remove fat from the outside of the pork tenderloin. Cut pork into ¼ inch thick slices. Set aside.
Add the oil to a 10-inch skillet, wok or deep sided pan and place over medium-high heat for 1 minute. Add the shallots and fry for 1-2 minutes until they begin to turn brown. Add the sugar and stir until melted (be careful not to splash yourself). Add the soy sauce, fish sauce, and water and bring to a boil. Add the pork and reduce the heat to medium and cook for 7-8 minutes or until pork is tender and cooked through. Once the pork is cooked, remove it with a slotted-spoon to a rimmed-serving dish. Turn the heat to high and boil the sauce for 1 minute to thicken it. Pour the sauce over the pork and serve.
Coconut Rice
Ingredients:
2 scallions
¾ cup chicken stock
¾ cup coconut milk
1 cup jasmine rice
2 Tbsp olive oil
4 oz. shitake or button mushrooms
Directions:
Remove the white part of the scallions and thinly slice the green parts. Set aside. Place chicken stock, coconut milk, and rice in a medium-sized saucepan over high heat. Bring to a boil. Stir well. Reduce heat to low, cover pan and simmer 15 minutes. Turn off heat and let stand 10 minutes. In a small skillet over medium-high heat, add 1-2 Tbsp olive oil and shitake mushrooms. Sauté 3 minutes and add salt and pepper to taste.
When you are ready to serve dinner, fluff the rice with a fork, toss in mushrooms and scallions.
About the Author: Cheryl Tallman is the co-founder of Fresh Baby, creators of the award-winning So Easy Baby Food Kit, and author of the So Easy Baby Food Basics: Homemade Baby Food in Less Than 30 Minutes Per Week and So Easy Toddler Food: Survival Tips and Simple Recipes for the Toddler Years. Visit Cheryl online at www.FreshBaby.com to learn about her latest creation, the Kid's Portion Plate.
Learn more about Cheryl's work:

So Easy Baby Food Kit: Make It Natural, Make It Fresh.
Price: $23.85
An award-winning, all-inclusive solution for making baby food in less than 30 minutes per week. The month-by-month Cookbooks uses fresh ingredients with no additives. Kit includes a cookbook, freezer trays, how-to video, and nutrition card, and pays for itself in just three weeks compared to jarred baby food.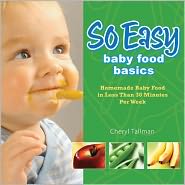 So Easy Baby Food Basics: Homemade Baby Food in Less Than 30 Minutes Per Week
Price: $8.95
Baby Food Cookbook including recipes and instruction for making stage 1, 2, and 3 baby foods. This book also includes the basics of introducing solid foods and developing healthy eating habits. Available in English and Spanish.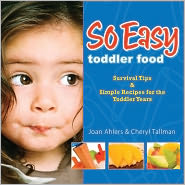 So Easy Toddler Food: Survival Tips & Simple Receipes for the Toddler Years
Price: $8.95
When it comes to eating, toddlers can be tough to please. So Easy Toddler Food is the perfect resource for parents looking for survival tips and 35 simple recipes that will win over even the pickiest toddler. Available in English and Spanish.