On our facebook page, Lisa asked if we have a Summer Reading List for Moms, so I wanted to share the titles I've been loving in the last month or two. These really have nothing to do with parenting but they're great for a wee escape.
Check these out and then add your own summer favorites in the comments section:

Bossypants (Unabridged)
I've linked here to the audiobook version because it's read by Tina Fey, which makes for an even funnier book. I listen to this on my longer hikes and, at times, it makes me laugh out loud in such sudden, wild bursts that I look like a lonely crazy lady chortling to herself in the forest.
Here's more about this title from Audible.com (Audible coupons are here.)
Price: $21.36
"Once in a generation a woman comes along who changes everything. Tina Fey is not that woman, but she met that woman once and acted weird around her. Before 30 Rock, Mean Girls, and 'Sarah Palin', Tina Fey was just a young girl with a dream: a recurring stress dream that she was being chased through a local airport by her middle-school gym teacher. She also had a dream that one day she would be a comedian on TV. She has seen both these dreams come true. At last, Tina Fey's story can be told. From her youthful days as a vicious nerd to her tour of duty on Saturday Night Live; from her passionately halfhearted pursuit of physical beauty to her life as a mother eating things off the floor; from her one-sided college romance to her nearly fatal honeymoon – from the beginning of this paragraph to this final sentence. Tina Fey reveals all, and proves what we've all suspected: you're no one until someone calls you bossy."

Summer is a great time to visit a classic, and this is – in my opinion – one of the best books ever written. I try to read it in every decade of my life, and I always find a little something new. This time, I related so much to Atticus when it used to be all about Scout.
To Kill a Mockingbird
Price: $12.79 at Borders.com
A good historical fiction novel is bliss, and this one centers on a period of time I've always wanted to know more about. I loved it from the first page to the last.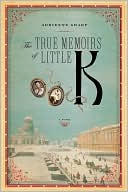 The True Memoirs of Little K
Price: $11.98
Exiled in Paris, tiny, one-hundred-year-old Mathilde Kschessinska sits down to write her memoirs before all that she believes to be true is forgotten. A lifetime ago, she was the vain, ambitious, impossibly charming prima ballerina assoluta of the tsar's Russian Imperial Ballet in St. Petersburg. Now, as she looks back on her tumultuous life, she can still recall every slight she ever suffered, every conquest she ever made. Kschessinka's riveting storytelling soon thrusts us into a world lost to time: that great intersection of the Russian court and the Russian theater. Before the revolution, Kschessinska dominated that world as the greatest dancer of her age. At seventeen, her crisp, scything technique made her a star. So did her romance with the tsarevich Nicholas Romanov, soon to be Nicholas II. It was customary for grand dukes and sons of tsars to draw their mistresses from the ranks of the ballet, but it was not customary for them to fall in love. The affair could not endure: when Nicholas ascended to the throne as tsar, he was forced to give up his mistress, and Kschessinska turned for consolation to his cousins, two grand dukes with whom she formed an infamous menage a trois. But when Nicholas's marriage to Alexandra wavered after she produced girl after girl, he came once again to visit his Little K. As the tsar's empire-one that once made up a third of the world-began its fatal crumble, Kschessinka's devotion to the imperial family would be tested in ways she could never have foreseen. In Adrienne Sharp's magnificently imagined novel, the last days of the three-hundred-year-old Romanov empire are relived. Through Kschessinska's memories of her own triumphs and defeats, we witness the stories that changed history: the seething beginnings of revolution, the blindness of the doomed court, the end of a grand, decadent way of life that belonged to the nineteenth century. Based on fact, The True Memoirs of Little K is historical fiction as it's meant to be written: passionately eventful, crammed with authentic detail, and alive with emotions that resonate still.
I also love Ernest Hemingway. The following three books are fun to read together because they cover the same period in time: The Paris Wife is a fictional account of Hemingway's early professional life from the point of view of his first wife. The Sun Also Rises is Hemingway's fictional piece of the same time period. A Moveable Feast is the posthumous memoir of this same period. If you're interested in how real life becomes fiction in an artist's life, this is a fascinating trio of books.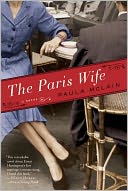 The Paris Wife
Price: $12.98
Readers of Ernest Hemingway biographies, his The Sun Also Rises and posthumous memoir A Moveable Feast know at least the outlines of the novelist's relationship with his first wife Hadley Richardson. This rich novel fleshes out that connection, evoking the full rise, throb, and fall of the couple's relationship. As author Paula McClain tells their story, she immerses readers in the jubilation and excesses of Jazz Age, offering us telling glimpses into the lives of the Hemingway's volatile artistic circle. A truly accomplished historical novel; strongly affirmative early reader reports.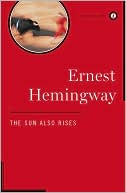 The Sun Also Rises
Price: $8.97
A brilliant profile of the Lost Generation, Hemingway's first bestseller captures life among the expatriates on Paris's Left Bank during the 1920s, the brutality of bullfighting in Spain, and the moral and spiritual dissolution of a generation. Reprint.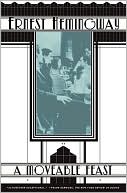 A Moveable Feast
Price: $9.36
If you are lucky enough to have lived in Paris as a young man, then wherever you go for the rest of your life, it stays with you, for Paris is a moveable feast."- ERNEST HEMINGWAY TO A FRIEND, 1950Published posthumously in 1964, A Moveable Feast remains one of Ernest Hemingway's most beloved works. It is his classic memoir of Paris in the 1920s, filled with irreverent portraits of other expatriate luminaries such as F. Scott Fitzgerald and Gertrude Stein; tender memories of his first wife, Hadley; and insightful recollections of his own early experiments with his craft. It is a literary feast, brilliantly evoking the exuberant mood of Paris after World War I and the youthful spirit, unbridled creativity, and unquenchable enthusiasm that Hemingway himself epitomized. Ernest Hemingway did more to change the style of English prose than any other writer in the twentieth century, and for his efforts he was.
This is an eclectic list if ever there was one. What titles are on your summer reading list?