Yesterday, we talked about Good Summer Food, and how to get the best nutrition with a variety of summer food choices. Today, we're bringing you some delicious summer drink recipes and ideas to help you cool off and stay hydrated.
Most of these summer drink recipes has some nutritional value. You may feel like you are just getting a burst of refreshment but your daily intake of fruits, vegetables, fiber and vitamins will  increase as well.
Summer Drink Recipes
Smoothies
* One cup of fresh strawberries
* One medium banana
* One cup of plain yogurt or fat free frozen strawberry yogurt
* Half a cup of apple juice
* Ice cubes
* Honey or agave nectar (as needed)
Cut up strawberries and bananas for easier mixing. Add them to a blender along with the cup of yogurt and the fruit juice. Blend until mixed. Add ice cubes for thickness.
If the flavor is not sweet enough for you, try a natural sweetener before you reach for sugar. Some ideas are maple syrup, honey or agave nectar. Drizzle it into your glass. Add some fresh strawberry pieces and a sprig of mint for a garnish. Mint adds a fresh taste to clean your palate after drinking your smoothie.
Vegetable smoothies
Before you wrinkle your nose, know that many veggies have a natural sweetness that people don't recognize because they eat them after they have been heavily processed. Vegetable smoothies are created using a combination of fresh vegetables along with an optional piece of fruit.
The trick to blending hard veggies is to dice the vegetables well before adding them to the blender. If you have an inexpensive blender from the store, you may need to upgrade to one with more speed and more powerful blades.
Some vegetables work better than others. Some popular choices for smoothies include spinach, greens, carrots, broccoli and avocados. In addition, nuts can be added for a dose of good fat and lots of protein and fiber. Your final combination will be full of fiber, vitamins and minerals that the body needs – all wrapped in a glass of refreshing liquid.
Here is a sample vegetable smoothie recipe:
Blueberry-Carrot Smoothie
* One cup of fresh blueberries
* Fresh carrot juice (it tastes better if you juice them yourself) or pureed carrots
* Half a cup of milk (soymilk, low fat milk) or one cup of yogurt
* Pureed spinach leaves
* Flaxseeds
* Sweetener, if needed (agave nectar, honey)
Clean and cut up vegetables. Add your liquid base – carrot juice and milk or yogurt. Remove spines on greens and rough outer skin from carrots. Puree carrots and spinach until smooth. Mix in blueberries. Finally, add some ground flaxseed for a bit of omega-3 fatty acids in your drink.
If the smoothie is too loose, add some ice cubes. Nuts will also help to thicken the smoothie. Adjust the sweetness with honey, agave nectar or maple syrup.
Ingredients for smoothies can be prepared ahead of time and refrigerated. When you are ready for a cool delight, simply put the fruits and/or vegetables of your choice into a blender and mix.
Flavored Water
The body needs to replenish fluids lost during workouts and normal daily activity, especially during the summer. Drinking water provides hydration without any of the calories. But, it can get kind of boring to drink plain water each day.
There are ways that you can flavor water so that it has a cool kick to it that everyone will enjoy.
First, consider using flavored ice cubes. Just add your favorite lemonade or fruit juice to an ice tray. Add one or two cubes to a glass of water for a trickle of taste as you drink.
Another way to freshen a glass of plain water is to add slices of fruit or vegetables to a pitcher. (Infusion pitchers are a great way to do this. We love ours.)

Prodyne 2.5-qt. Fruit Infusion Pitcher
Price: $24.95
Enjoy refreshing lemon water, raspberry iced tea and more. Crystal clear acrylic pitcher has removable fruit infusion rod that screws into the lid. Open slots in rod allow liquid and fruit to mix naturally. Refill the pitcher without replacing the fruit. From Cooking.com (Cooking.com coupons are here.)
Iced Teas
Many people drink sweetened iced tea in the summertime. It sure is tasty, it's loaded with sugar, which gives you lots of empty extra calories. Try some herbal iced teas and natural sweeteners.
Here's a recipe to try:
Apple Spiced-Peach Tea
* Apple Spice flavored tea bag
* One sliced peach
* Hot water
* Natural sweeteners (honey or agave nectar)
Boil five quarts of water. Add two apple spice tea bags and peach slices and allow tea to steep. For taste, add a natural sweetener while tea is still warm so it will mix well. Bring to room temperature; remove tea bag and chill in the refrigerator.
Try to choose decaffeinated teas in your favorite flavor. Combine them with water and sweetener alone or add your favorite fruit to permeate the tea in the pitcher.
Iced Coffee
If you enjoy good coffee in the morning, you can also have it throughout the day but in a cooler form. Turn left-over coffee into a chilled coffee drink any time of the day.
It's simple. Mix a cup of cold coffee (preferably decaf) with half a cup of low-fat milk or soy milk. For a little kick, add a touch of espresso powder. Mix well and pour over ice.
Sparkling Drinks
Many of the above drink suggestions can perform double duty. They can be transformed into sparkling drinks in an instant. Something about the feel of bubbles tingling in your mouth makes you feel refreshed.
Here are a few ideas to sparkle your regular drinks:
- Add half a cup of sparkling water to half a cup of your favorite iced tea or lemonade
- Add half a cup of seltzer water to half a cup of 100 percent fruit juice
- Combine sparkling water with a handful of fresh berries and flavored ice cubes
Here is a collection of Summer Drink and Summer Cocktail Recipes: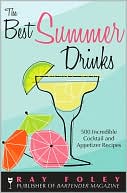 The Best Summer Drinks: 500 Incredible Cocktail and Appetizer Recipes
Price: $4.98
Perfect summer promo or cash-wrap title, from the ultimate authority on bartending, Bartender Magazine. From Bartender Magazine, the number one publication for the bartending trade and the most respected name in bartending, comes The Best Summer Drinks, the perfect recipe guide for the hottest drink time of year. Written by the ultimate authority on bartending, this book contains 500 summer cocktail and appetizer recipes submitted by the world's best bartenders, including: Summer Breeze Fourth of July Blue Lemonade South Wind Sun StrokedPerfect for impulse purchase at cash-wrap areas, The Best Summer Drinks is sure to find its way into the pocket of anyone who loves libations.