Healthy Habits: Introducing Your Family to Red Foods
A guest post from Cheryl Tallman, Creator of FreshBaby.com
In Japan, the color red signifies energy and power and is often used as a color for heroic figures. This is a good description because when you include red fruits and vegetables in your child's meals, they will grow up strong like superheroes.
Red foods are packed with lots of vitamins and minerals like vitamin A, vitamin C and potassium. Red foods also contain compounds called phytochemicals, which have been shown to have positive health benefits. Phytochemicals you might have heard about include flavonoids, lycopene, reservatol and capsaicin.
Make a game out of letting your kids choose one "superhero" red food to eat every day. Our favorite red foods include:
* Strawberries – Strawberries are loaded with vitamin C, potassium, and folate. Strawberries are best fresh, for a special treat add them to yogurt, cereal and smoothies.
* Tomatoes -Tomatoes are a great source of lycopene, potassium and vitamin C. They taste great fresh off the vine and cooked in sauces, stews and soups. Try them with scrambled eggs.
* Red Peppers – A bright red pepper contains potassium, vitamin A and vitamin C. Red Peppers can be served raw as a snack or in salads, cooked in pasta and stir fry dishes or roasted in soups and stews.

* Apples – The wonderful shiny red apple contains soluble fiber, pectin and flavonoids. For a healthy afternoon snack, slice an apple and top with peanut butter. Yummy!
* Watermelon – You know its summer time when you see watermelons. Watermelons are packed with vitamin A, vitamin C and lycopene. A big slice of fresh watermelon is sure to put a smile on your little one's face.
* Red Beets – Red beets contain iron, niacin and potassium. Start introducing red beets to kids in salads or roasted with olive oil and ground pepper. Pickled red beets are also a good introduction.
* Red Grapes – Red Grapes contain flavonoids, reservatol and quercitin to help keep your heart healthy and strong. Grapes are a great snack. Freeze them for a hot summertime treat.
* Cherries – Cherries are considered a nutritional super food because they are loaded with antioxidants and vitamins and, they taste great! Remove the pits to make it easier for little ones to enjoy this delicious treat.
About the author: Cheryl Tallman is the co-founder of Fresh Baby, creators of the award-winning So Easy Baby Food Kit, and author of the So Easy Baby Food and the new book So Easy Toddler Food: Survival Tips and Simple Recipes for the Toddler Years. Visit Cheryl online at www.FreshBaby.com for more delicious tips.
Learn more about Cheryl's work:

So Easy Baby Food Kit: Make It Natural, Make It Fresh.
Price: $23.85
An award-winning, all-inclusive solution for making baby food in less than 30 minutes per week. The month-by-month Cookbooks uses fresh ingredients with no additives. Kit includes a cookbook, freezer trays, how-to video, and nutrition card, and pays for itself in just three weeks compared to jarred baby food.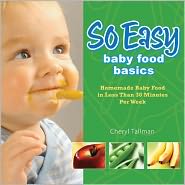 So Easy Baby Food Basics: Homemade Baby Food in Less Than 30 Minutes Per Week
Price: $8.95
Baby Food Cookbook including recipes and instruction for making stage 1, 2, and 3 baby foods. This book also includes the basics of introducing solid foods and developing healthy eating habits. Available in English and Spanish.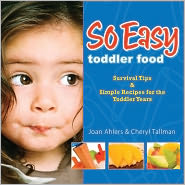 So Easy Toddler Food: Survival Tips & Simple Recipes for the Toddler Years
Price: $8.95
When it comes to eating, toddlers can be tough to please. So Easy Toddler Food is the perfect resource for parents looking for survival tips and 35 simple recipes that will win over even the pickiest toddler. Available in English and Spanish.