So it used to be cupcakes. Now it seems the trendiest treat is the Popsicle.
And that's wonderful because making these ice pop treats can be as simple as pouring some orange juice into a Dixie cup, adding a craft stick and popping into the freezer. It can also be as complicated as simmering a concoction on the stove and pouring it into your Zoku machine (What in the world is a Zoku machine? See below.)
You can get pretty imaginative with your ice pop pour-ins. Just about any smoothie recipe, for example, can be frozen into popsicles.
In addition, we love these 7 Fresh Fruit Ice Recipes from Oprah.com and this just-for-adults recipe for Bellini  Ice Pops on FineCooking.com. (These tempt your palate with peaches and Prosecco, an Italian white wine)
A variety of kid-friendly popsicle recipes and ideas follow, as well as recommendations for even more:
Pureed Fruit Pops (3 recipe variations)
1. In a blender, combine 2 cups of strawberries and just enough fruit juice (such as cranberry or apple) to make the mixture liquefy. Pour into molds and freeze.
2. Combine 1 cup each of sliced, peeled peaches and nectarines with 1/4 cup orange juice and blend until pureed, adding orange juice as needed.
3. Combine 1/2 cup each of blueberries, blackberries, and raspberries with about 1/4 cup of water.
Dessert-like ice pops (3 recipe variations)
1. In a blender, combine 2 ripe bananas, 2 tablespoons unsweetened cocoa powder, and 1 cup of sweetened, vanilla almond milk. Liquefy, then pour into molds and freeze.
2. In a bowl or jar, combine 1 cup orange juice, 1 1/2 cups vanilla yogurt, and sugar or honey to taste. Whisk everything together and freeze in molds.
3. Chocolate and strawberries or raspberries are a classic combination. In a double boiler, melt 1/2 cup of semi-sweet chocolate chips. While the chips melt, blend 2 cups of strawberries or raspberries in the blender until liquid. Slowly pour the melted chocolate into the puree while the blender is running. Freeze in molds.
Frozen Mango Popsicles
Makes 8
You'll need:
2 cups low fat mango yogurt
1 tbsp fresh lemon juice
1 tbsp light corn syrup
2 tbsp sugar
2 cups fresh mango, cut into small chunks
8 Popsicle molds
Combine the mango yogurt, lemon juice, corn syrup, sugar and 1 cup of mango chunks in a food processor and blend until smooth. Add the remaining one cup of mango and pulse until the yogurt mixture is smooth, but still has some small mango chunks left.
Pour the mixture into the Popsicle molds, cover with the tops and plastic or wooden Popsicle sticks. Place into the freezer until thoroughly frozen.
Low-Fat Blueberry Popsicles
Makes 8
You'll need:
4 cups fresh blueberries (or other berries)
1/3 cup fine sugar
1 cup low-fat plain yogurt (can be substituted with low-fat buttermilk)
Place blueberries in a bowl and crush with a potato masher. Add the sugar and combine well. Stir in the yogurt and mix until well combined. Pour mixture into 8 Popsicle molds and put into the freezer.
Things to Try:
Here's a fun gadget that will have these icy treats ready before you can say "popsicle."

Zoku Quick Pop Maker
Price: $49.95
The Zoku Quick Pop Maker freezes ice pops in as little as seven minutes right on your countertop without electricity. Quickly make striped pops, yogurt pops or (for the first time ever at home) flavored core pops. To enjoy Quick Pops at a moments notice, simply store the compact base in your freezer. The kit includes six durable, reusable plastic pop sticks that have unique ridged designs that allow pops to adhere securely, with special drip guards for tidy eating. A specially designed Super Tool helps to quickly release the frozen treats from their molds. The unit can make up to 9 pops before refreezing the unit again. Includes 1 Quick Pop Maker, 6 sticks, 6 drip guards, and 1 Super Tool.
BPA and phthalate free.
From Cooking.com – a fabulous site, which offers frequent coupon codes and special offers, which we collect and publish here: Cooking.com coupon codes
Quality Popsicle Molds:

Tovolo Popsicle Molds (set of 6) – Star
Price: $19.00
Enjoy some icy treats using these Tovolo Popsicle Molds (set of 6). These popsicle molds are larger than most so there"s more popsicle to enjoy! The base is designed so that you can easily remove popsicles individually and it also keeps popsicles from tipping and spilling in your freezer. The mold handles are designed to catch drips as you eat so juices don"t run down your arm. The plastic sleeves of each mold are insulated so you can set them out on your table and enjoy them at the end of the meal without worrying about melting! Sold as a set of 6. Instructions included.
And More Recipes:


Ice Pops: Recipes for Fresh and Flavorful Frozen Treats
Price: $10.21
In these pages, you'll find over 40 recipes for frozen delights with tantalizing flavors- summer peach, bright watermelon and lime, rich chocolate swirled with vanilla or layered with raspberries, custard-based cheesecake and caramel, or green tea with pomegranate. Chapters include: fruit pops; chocolate pops; dairy-based pops; and pops with daring, modern flavors. Packed with full-color photographs and endless inspiration, this book shows how satisfying it is to make ice pops at home. No machine needed.
From Barnes&Noble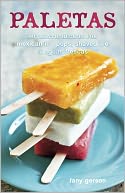 Paletas: Authentic Recipes for Mexican Ice Pops
Price: $10.64
From Barnes&Noble