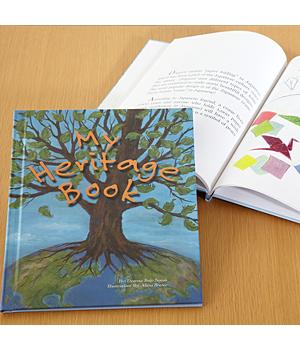 Children are full of questions:
Why is the sky blue?
Where do I come from?
This beautifully illustrated and educational book allows you to begin introducing them to their own unique cultural heritage.
When you order, you'll be able to choose up to 4 countries, from which the child's ancestors came. The "My Heritage Book" will come with information about the countries you've selected.
The book is further personalized with your child's name printed through the book and includes a family tree that you can fill out with your child. The first page of the book includes a letter to the child from the gift-giver, personalized with the child's first, optional middle, and last names, as well as your chosen date.
The completed book will be between 16  to 33 pages (depending on how many countries you have selected). Click here to see available countries for your Heritage Book.
The My Heritage Book is sold from Red Envelope, which is one of Momscape's favorite online stores. Click here for to check for current Red Envelope coupons >