This recipe for Tropical Thai-Style Fruit Pudding from Freshbaby's Cheryl Tallman is sure to be a hit with your little ones.
Ingredients:
1 mango
2 bananas
½ cup coconut milk
1 Tbsp. brown sugar
1 tsp. lime juice
Directions:
Peel, core and chop mango into chunks. Peel and slice banana into chunks. Over medium heat, pour coconut milk into a medium-sized saucepan. With a wooden spoon, stir in brown sugar and lime juice. Add mango and banana. Cook for 3 minutes. Pour the mixture into a blender and puree to a smooth texture. Pour the fruit pudding into ice molds or baby food trays (such as Cheryl's So Easy Baby Food Trays), cover and freeze until ready to use.
Serving:
Defrosted pudding cubes taste great alone, but try these options for variety:
* Add fruit pudding to oatmeal for a great tasting start to the day.
* Add a few cubes of fruit pudding to pancake batter to make Thai-inspired pancakes
* Add mashed brown rice to create a fruity rice pudding
* Toss 2-3 frozen cubes, 2 ice cubes and splash of fruit juice or milk in a blender for a frothy fruit smoothie
See Cheryl's Family Thai Dinner Recipes and Ideas.
About the Author: Cheryl Tallman is the co-founder of Fresh Baby, creators of the award-winning So Easy Baby Food Kit, and author of the So Easy Baby Food Basics: Homemade Baby Food in Less Than 30 Minutes Per Week and So Easy Toddler Food: Survival Tips and Simple Recipes for the Toddler Years. Visit Cheryl online at www.FreshBaby.com to learn about her latest creation, the Kid's Portion Plate.
Learn more about Cheryl's work:

So Easy Baby Food Kit: Make It Natural, Make It Fresh.
Price: $23.85
An award-winning, all-inclusive solution for making baby food in less than 30 minutes per week. The month-by-month Cookbooks uses fresh ingredients with no additives. Kit includes a cookbook, freezer trays, how-to video, and nutrition card, and pays for itself in just three weeks compared to jarred baby food.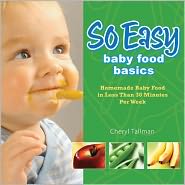 So Easy Baby Food Basics: Homemade Baby Food in Less Than 30 Minutes Per Week
Price: $8.95
Baby Food Cookbook including recipes and instruction for making stage 1, 2, and 3 baby foods. This book also includes the basics of introducing solid foods and developing healthy eating habits. Available in English and Spanish.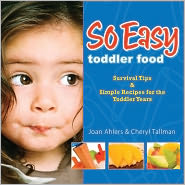 So Easy Toddler Food: Survival Tips & Simple Receipes for the Toddler Years
Price: $8.95
When it comes to eating, toddlers can be tough to please. So Easy Toddler Food is the perfect resource for parents looking for survival tips and 35 simple recipes that will win over even the pickiest toddler. Available in English and Spanish.