Give Dad something cool this Father's Day.
One of my favorite places to shop for unusual and unique gifts is Red Envelope. Here is a selection of some of their most memorable (and inexpensive) Father's Day gifts.
You'll also find a link to the latest Red Envelope coupons.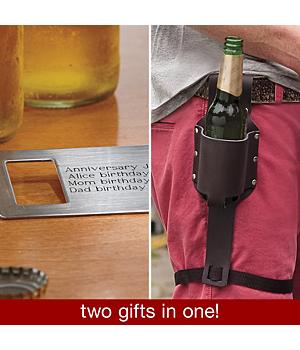 Beer Holster
Get him ready for the next barbeque with our beer holster and wallet bottle opener. In the spirit of the Wild West, this leather beer holster keeps his beer ready for a quick draw whenever the need arises. Combine function and sentiment with this credit card sized wallet bottle opener that may be engraved with a custom message. Made of brushed stainless steel, it fits perfectly in his wallet and always remind him how much he is loved.
Beer holster made of rugged leather adjustable nylon strap for additional support; fits a 12 ounce can or bottle. Bottle opener measures 3 3/8" x 2 1/8" and is made of stainless steel.. May be engraved with up to 5 lines, 20 characters each linesize of engraving changes based on number of characters. (More characters will result in smaller engraving.) More >
Golfer's Cooler Bag
A cool drink on the back nine might sound like a mirage, but now it's as close as this cooler bag. Made of durable khaki-green nylon microfiber with brown trim, our bag clips onto a golf bag or cart. Insulated to keep drinks and snacks cold, and holds up to a dozen cans. Side pockets hold golf balls, cell phone and more. Adjustable shoulder strap. May be monogrammed with up to three initials.
More topselling Father's Day Gift Ideas from Red Envelope
(See the latest Red Envelope coupons here.)
Magwear Magnetic Wristband
This ingenious accessory keeps screws, nails, nuts and bolts close at hand. Inside the rugged plastic caddy, an intensely powerful magnet holds metal fasteners and small tools. No need to hold them in his mouth or pocket, or climb down the ladder to retrieve them. Adjusts to fit wrists of any size. 3″ sq. Blue or Red.

Hidden Message Tie Clip

Make sure to let dad know how special he is with our hidden message tie clip that is sure to jazz up his tie. First used in the mid-1800s, tie clips really took off in the 1920s, and have continued to be a fixture for fashionable men everywhere. With this hidden message tie clip, dad will always know that "love ties us together," which is the sweet sentiment etched on the backside of the clip. May be personalized on the front with up to three letters. Exclusively from RedEnvelope.
Leather Excursion Travel Case
Storing toiletries in style, our travel case was inspired by the classic shaving bags used in the early 1900s. Made of rich brown full-grain leather with modern brushed-brass hardware and durable cotton-canvas lining. Exclusively from RedEnvelope.

See all unique father's day gifts and save at Red Envelope
See more Father's Day Gift Ideas and Coupons at susies-coupons.com >