Tiniest Gourmet – Recipes for Babies and Toddlers
A guest post from Cheryl Tallman, www.FreshBaby.com
Mexi-Veggie Chile Stew
This terrific vegetable stew is made with popular Mexican vegetables and a hint of green chiles. Green chiles are the perfect "first" chile pepper to introduce. They have a gentle, mild flavor. While you can puree this recipe to a smooth texture, it's perfect as a stage 3 food with a slightly chunky texture.
2 medium zucchini, diced
1/2 cup diced tomatoes (fresh or canned)
1 ear corn, kernels cut off cob (or 3/4 cup frozen corn)
1 Tbsp. canned green chiles
1/4 cup water
Place all the ingredients in a pan and bring to a boil over high heat. Cover the pan and turn heat down to medium. Cook for 15 minutes.
Pour the vegetable stew into a blender or food processor and pulse to chunky texture. Spoon the Mexi-Veggie Chile Stew into So Easy Storage Trays, Cover and Freeze.
When ready to serve, defrost and warm up the cubes. This stew is a delicious vegetable dish. You can also add cooked brown rice or fork-mashed black beans to it before serving.
Toddler Treat: Empanadas
Street food is popular throughout the cities of Mexico. Food vendors sell tacos, tamales and empanadas. Empanadas are small pastries stuffed with sweet or savory fillings. In Mexico, sweet fillings in empanadas are the most popular. We cut our empanadas pastry into 4 ½-inch circles to make a smaller empanada that is perfect for tiny hands to enjoy.
Banana & Chocolate Filling:
1 banana, diced
1/4 cup chocolate chips
Juice of 1/4 lemon
Sprinkle of cinnamon
Powdered sugar
Combine banana, chocolate chips, lemon juice and cinnamon in a small bowl. Set aside
Cheese & Olive Filling:
2 ounces Colby-jack cheese, diced
1 Tbsp. small green olives stuffed with pimentos, sliced
1 Tsp. cilantro, chopped
Combine cheese, olives and cilantro in a small bowl. Set aside.
Empanadas:
Empanada filling (recipes above)
1 sheet of puff pastry
Preheat oven to 375 degrees F. Roll out puff pastry into a thin layer on a lightly floured surface. Using a 4-5 inch circle cookie cutter, cut pastry into 8 rounds.
Place about 1 Tablespoon of empanada mixture in the middle of one of the pastry rounds. Brush the edges with water and fold in half. Press edges with a fork to seal the edges. Place on cookie sheet lined with parchment paper. Repeat with the rest of the pastry rounds and filling.
Bake the empanadas for 15-20 minutes or until they are golden brown.
Remove from oven and let cool slightly. Dust the Banana and Chocolate Empanadas with powdered sugar when slightly cooled.
About the author: Cheryl Tallman is the co-founder of Fresh Baby, creators of the award-winning So Easy Baby Food Kit, and author of the So Easy Baby Food and the new book So Easy Toddler Food: Survival Tips and Simple Recipes for the Toddler Years. Visit Cheryl online at www.FreshBaby.com for more delicious tips.
Learn more about Cheryl's work:

So Easy Baby Food Kit: Make It Natural, Make It Fresh.
Price: $23.85
An award-winning, all-inclusive solution for making baby food in less than 30 minutes per week. The month-by-month Cookbooks uses fresh ingredients with no additives. Kit includes a cookbook, freezer trays, how-to video, and nutrition card, and pays for itself in just three weeks compared to jarred baby food.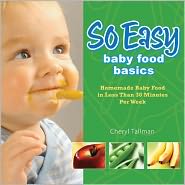 So Easy Baby Food Basics: Homemade Baby Food in Less Than 30 Minutes Per Week
Price: $8.95
Baby Food Cookbook including recipes and instruction for making stage 1, 2, and 3 baby foods. This book also includes the basics of introducing solid foods and developing healthy eating habits. Available in English and Spanish.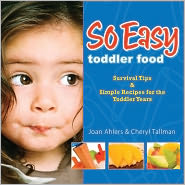 So Easy Toddler Food: Survival Tips & Simple Recipes for the Toddler Years
Price: $8.95
When it comes to eating, toddlers can be tough to please. So Easy Toddler Food is the perfect resource for parents looking for survival tips and 35 simple recipes that will win over even the pickiest toddler. Available in English and Spanish.