Family Meal: Bento Box Dinner
A guest post from Cheryl Tallman, Creator of FreshBaby.com
A bento is a divided box that originated in Japan. Bento boxes are made from a wide variety of materials, including lacquer, bamboo, plastic and stainless steel. A traditional bento meal includes carbohydrates (rice or noodles), protein (fish, chicken, meat, or tofu), vegetables and fruit. Foods are arranged in the box to display a colorful, healthy meal with a wonderful variety of flavors and tastes.
We've developed a family-friendly Bento Box dinner to prepare and enjoy. The recipes are infused with the Japanese ingredients that you can find in the Asian Foods section of your grocery store.
Edamame
Yakisoba (Stir-Fried Soba Noodles)
Grilled Salmon with Red Miso Sauce
Honeydew Melon
Steamed Edamame
If you can boil water, you can make edamame. While traditionally served in the pods, the pods are not edible. To eat simply squeeze the pod with your thumb and forefinger and the edamame beans pop right out.
Frozen edamame (about 10 pods per person)
Water
Pinch of kosher or sea salt
Directions: Bring about 3-4 quarts of water to a boil and place the edamame in the boiling water. Cook 3-5 minutes. Drain. When plating sprinkle lightly with kosher salt. Have another bowl at the table to put the empty pods in.
Grilled Salmon with Red Miso Sauce
Miso Sauce:
½ cup red miso paste
1/3 cup sake
3 Tbsp. chicken stock (or Dashi)
1 Tbsp. soy sauce
4 6-ounce Salmon fillets, skinned
Directions: To make the sauce, combine all four ingredients in a saucepan and stir to a smooth sauce. Place saucepan on the stove over medium heat and cook for 8 minutes, stirring occasionally until sauce thickens. Set aside and let cool.
Brush both sides of salmon fillets with miso sauce. Lightly oil and heat a grill pan over medium heat. Place salmon on the grill and cook for 3-4 minutes. Brush with sauce, turn fillets over and brush with sauce again. Cook 3-4 minutes. Remove from pan and let stand 5 minutes. Serve warm.
Yakisoba (Stir-Fried Soba Noodles)
Soba noodles are made from buckwheat flour and have a unique brown color. Yakisoba is a popular dish of stir-fried soba noodles and a variety of meats and vegetables. You can use any type of meat or seafood and any types of vegetables – including bean sprouts, green peppers, mushrooms, Chinese cabbage, celery and broccoli.
8-ounce Soba noodles
1 cup bean sprouts, rinsed
8-10 Shitake mushrooms, stems removed and sliced
8 cooked shrimp, chopped
3 green onions, chopped
2 Tbsp. vegetable or peanut oil
Yakisoba Sauce:
3 Tbsp. soy sauce
2 tsp. sugar
1 tsp. fresh ginger, minced
2 tsp. sake
Prepare Yakisoba sauce. Mix all ingredients in a small bowl. Set aside.
Bring a large pot of water to a boil and add soba noodles, stirring to separate them. Boil soba noodles for 6-8 minutes, until tender. Drain in a colander and rinse with cold water. Set aside.
In wok or large skillet, heat oil over high heat. Add shitake mushrooms and stir fry 2 minutes. Add soba noodles and stir fry 3 minutes. Add the Yakisoba Sauce, shrimp and bean sprouts and stir fry for 2 more minutes. Serve warm.
Fun with Japanese Table Manners:
Certain table manners are observed during meal times in Japan. Include these practices as a fun way to help teach your kids about etiquette in other countries.
Add a warm, wet towel at each person's plate to wipe hands before eating.
Eat with chop sticks. Kid-size chopsticks and chopstick helpers can be found in specialty stores or online.
Before you start eating, put your palms together and say "Itadakimasu." This translates to "I gratefully receive."
Soup can be sipped straight from the bowl – no spoons necessary!
It is okay to make slurping sounds when eating soup and noodles from a bowl, as long as it's not excessive. Slurping tells the chef that you are enjoying the meal.
When you are done using chopsticks, lay them in front of you with the tips pointing to the left. It is considered bad manners to leave them pointing upright in a bowl.
When you are finished your meal, say "Gochisosama," which means "Thank you for the meal."
About the author: Cheryl Tallman is the co-founder of Fresh Baby, creators of the award-winning So Easy Baby Food Kit, and author of the So Easy Baby Food and the new book So Easy Toddler Food: Survival Tips and Simple Recipes for the Toddler Years. Visit Cheryl online at www.FreshBaby.com for more delicious tips.
Learn more about Cheryl's work:

So Easy Baby Food Kit: Make It Natural, Make It Fresh.
Price: $23.85
An award-winning, all-inclusive solution for making baby food in less than 30 minutes per week. The month-by-month Cookbooks uses fresh ingredients with no additives. Kit includes a cookbook, freezer trays, how-to video, and nutrition card, and pays for itself in just three weeks compared to jarred baby food.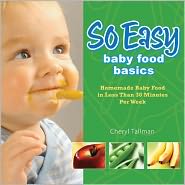 So Easy Baby Food Basics: Homemade Baby Food in Less Than 30 Minutes Per Week
Price: $8.95
Baby Food Cookbook including recipes and instruction for making stage 1, 2, and 3 baby foods. This book also includes the basics of introducing solid foods and developing healthy eating habits. Available in English and Spanish.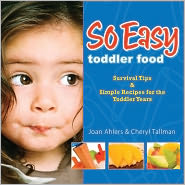 So Easy Toddler Food: Survival Tips & Simple Recipes for the Toddler Years
Price: $8.95
When it comes to eating, toddlers can be tough to please. So Easy Toddler Food is the perfect resource for parents looking for survival tips and 35 simple recipes that will win over even the pickiest toddler. Available in English and Spanish.