Here's an idea for a pretty Mother's Day gift – or a little something for yourself…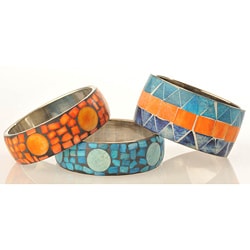 Inlaid Natural Stone Round Bracelet (India)
This bracelet features natural rocks from India and silver inlaid in resin. Each piece is unique and handcrafted by artisans in India.
Story Behind the Art: The inlay work is done in a particular village in Northern India famous for its inlay artisans. The inlay craft is passed from one generation to the next. Alok the artisan, watched his parents do this work and learned the techniques as he got older. Unfortunately it is one of the shrinking crafts in India. Many artisans leave their craft to find day labor and migrate to cities.
Worldstock (a division of Overstock.com) will help these artisans feed their families and keep the craft alive for future generations.
We also like:

Goldtone Inlaid Natural Stone Cuff Bracelet
(from the same artisans in India).
Available online from Overstock. Get the latest Overstock coupons and deals here.