There are certain foods we just crave. For me, it generally has something to do with chocolate. For others, it's something salty. Usually, these types of things come in a slick, brightly colored bag with lots of ingredients we can't pronounce.
The folks at Sasquatch Books recently sent me this delightful new book that can help us "take back our snacks," in the words of the author. Real Snacks, by Lara Ferroni brings you recipes for your favorite childhood treats without all the junk.
The "Real Sweet" section includes recipes for snack cakes, cookies, frozen treats and confections. While the "Real Salty" section includes chips, dips, crackers and snacks like Corn Nuts and Hot Pockets. There's even an appendix with 22 simple recipes for pantry items you can make in your own kitchen, such as evaporated milk and chocolate syrup. (Enter to win a copy of Real Snacks here.)

Here's more information on Lara's new book, as well as some other titles and resources to help you serve healthier snacks for your family.

Real Snacks: Make Your Favorite Childhood Treats Without All the Junk
Imagine Twinkies, Doritos, and Cheez-Its without the artificial colors and preservatives, full of wonderful flavors and nutrients from whole grains and natural sugars, and easily made in your own kitchen. Lara Ferroni shows you how with this collection of 50 nostalgic childhood treats that satisfy your junk food cravings, but without all the junk. Gluten free and vegan options are included for every recipe.
Combine this with Lara's first book, also available online from amazon.com:

Doughnuts: Simple and Delicious Recipes to Make at Home
A chocolate-glazed doughnut and cup of coffee is a match made in heaven for many North Americans, but wait! Something new is happening in the doughnut world: boutique bakeries are popping up everywhere, and "designer doughnuts" are all the rage. The best news of all is that they're actually easy to make at home. And really, is there anything more scrumptious than a fresh doughnut? In Doughnuts, prepare to be tempted by more than fifty recipes, including Chai, Huckleberry Cheesecake, and Red Velvet. Of course, the cookbook is also full of traditional recipes for favorites like Old-Fashioned Sour Cream and Chocolate Raised doughnuts, as well as vegan and gluten-free recipes. The mouthwatering photography and tasty recipes will leave readers and home cooks drooling and dreaming about doughnuts.
And then there's Unreal Candy – healthier versions of such popular candies as M&Ms, Peanut M&Ms, Snickers, Milky Way, and Reese's Peanut Butter Cups. These, you can buy in one of those slick, brightly colored bags. But you'll be able to pronounce the ingredients. There's no artificial ingredients, no hydrogenated oils, no corn syrup, no preservatives, and no GMOs.
Each of the Unreal Candy varieties below is available online from Quill.com (Get the latest Quill online coupons here, before you buy.)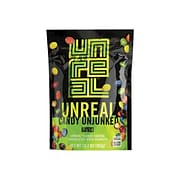 Unreal(tm) 54 Candy Coated Chocolate w/Peanuts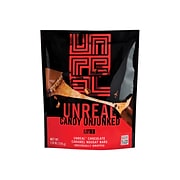 Unreal(tm) 5 Chocolate Caramel Nougat Candy

Unreal 8 Chocolate Caramel Peanut Nougat Candy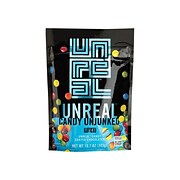 Unreal(tm) 41 Candy Coated Chocolate
This post contains affiliate links. The opinions expressed are my own.