It can be hard to buy for the men in our lives. With many of the guys I know, when they need something, they go out and buy it. Also, they don't tend to have too many things that they want, which they don't also feel they need. And so the item is purchased.
This all leaves me a little stumped at gift-giving time. It also makes it extra fun to give them something that they didn't even know they needed.
Here are a few of our favorite gift ideas for the dad who has everything:
For the Travelin' Dad

Scratch Map
Price: $24.00
Help dad track his travels with this scratch-off-where-you've-been map that charts globetrotting in a fun and innovative way. When Dad scratches off the areas he has visited, he'll reveal adventurous pops of color, as well as local facts.  Wrap this one up with a coin for easy scratching – and top with a few scratch lottery tickets.
From Uncommon Goods.

For the Gadget Lovin' Dad:

Boogie Board LCD Writing Tablet
Price: $42.95
This brand new LCD writing tablet is a tree-friendly alternative to paper, pencils and pens. Plus, it's a fun gadget. Simply press on the surface with the included stylus or other suitable writing instrument (even your finger) to create an image and then erase with the push of a button. Comes with a Boogie Board Magnet Kit and Shammy Cleaning Cloth
From Buy.com. Find Buy.com coupons here.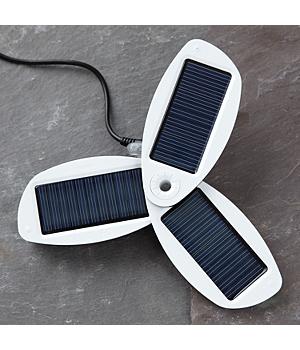 Solar Gadget Charger
Price: $99.94
Now Dad can power up wherever he goes. This compact little gadget is capable of charging or powering just about any device with a USB port. It's lightweight and portable. Simply place the Solio in the sun, spread its wings and – once its internal battery charges – you can power or charge a variety of devices. Includes  7 adapter charging tips for your electronics. The solio and its packaging are made from recycled and recyclable materials.
Available from Red Envelope. (Red Envelope coupons are here).
Gift of the Month Clubs


Amazing Clubs Necktie of the Month Club – 3 Months
Price: $71.85
What's better than a new necktie for Father's Day. One each month! Each month, Dad will receive a new 100% silk, designer necktie. Plus, instant gift messages with all orders. Amazing Clubs offers 32 different Gift of the Month Clubs including wine, beer, flowers, tea, hot sauce, teddy bears, ice cream, salsa, BBQ sauce and many more.
See more Gift of the Month Clubs from Amazing Clubs

Gourmet Monthly Clubs has a very popular Microbrewed Beer of the Month Club, as well as five other gourmet gift clubs. The really nice thing about Gourmet Monthly Clubs is that they also have a Whatever Whenever Club option, which allows you to mix and match from their 6 gourmet gift clubs (Microbrewed Beer, International Wine, Premium Cigar, Gourmet Cheese, Fresh Cut Flowers, and/or Gourmet Chocolate gifts of the month) and customize them to fit your shipping schedule. Oh, and the other nice thing about Gourmet Monthly Clubs is that they have some fairly regular coupon codes, including the following:
$10 off any 12 month prepaid club sign-up. Use Code: GMC$10
Give an Experience Gift:
Top Father's Day Gifts from Cloud 9 Living
Here you'll find a variety of popular experience categories for dads: Race Car Driving, Golf Lessons, Wine & Beer Experiences, Fishing, Learn to Fly and a handful more.
Give a Family Legacy:
Give an Ancestry.com membership.

Just for Fun:

F in Exams
Price: $9.00
Question: Use the word "doldrums" in a sentence. If you answered "I cannot play the doldrums," you're correct! At least according to this silly book of wrong answers, celebrating the creative side of failure with 250 true life responses to common test questions from grade school through high school. A touching, funny and oh-so-real look at everyday blunders, this little pick-me-up is sure to bring smiles to any student, teacher or class clown.
From Uncommon Goods.

Bacon Flavored Envelopes – Set of 25
Price: $7.00
Does Dad love himself a little bacon? Here's a fun gift for dads with a sense of humor and a sense of taste. The glue on these envelopes actually tastes like the greasy, crispy, smoky, salty breakfast meat. Contains no actual bacon…no need to refrigerate.
Made in California and sold through Uncommon Goods.
See more Father's Day Gift Ideas and Coupons on Momscape's Coupons Blog.