It's nearly Halloween, and whether you're looking for something fun to bring the hostess of a Halloween party – or maybe a Halloween gift for your child's teacher, we've found some fun Halloween gift ideas: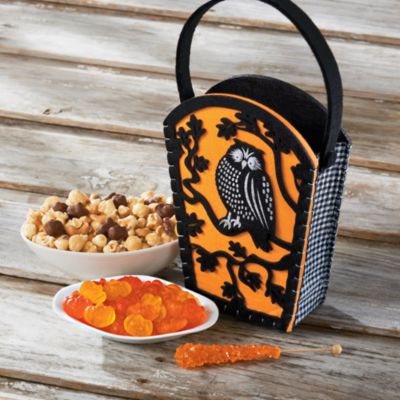 Three Sisters Halloween Gift
Price: $19.95
Available online from HarryandDavid.com (Get the latest Harry & David Coupons.)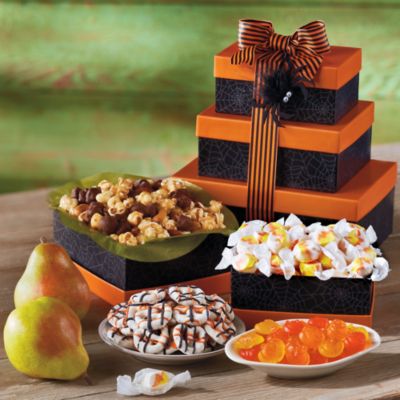 Halloween Tower of Treats Gift
Price: $39.95
You told your little sister there were monsters under her bed. And in her closet. Every year on Halloween, you made her trick-or-treat at the scary neighbor's house while you stayed on the sidewalk. And then you stole her Halloween candy. Maybe it's time to make it up to her. Send a Halloween Tower of Treats Gift that will trump any pillowcase full of candy.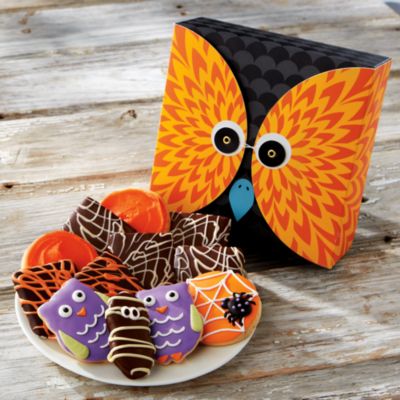 Owl Creek Halloween Cookie Gift
Price: $29.95
Available online from HarryandDavid.com (Get the latest Harry & David Coupons.)

Happy Halloween Bat Gift
Price: $29.95
So if you're looking to give a little something extra to someone this Halloween, we've got an adorable solution. Our plush Halloween bat comes with festive gummi pumpkins and traditional style candy corn. The perfect sidekick for any trick-or-treater, this soft and fuzzy plush bat can tag along with his Velcro wings.
Available online from HarryandDavid.com (Get the latest Harry & David Coupons.)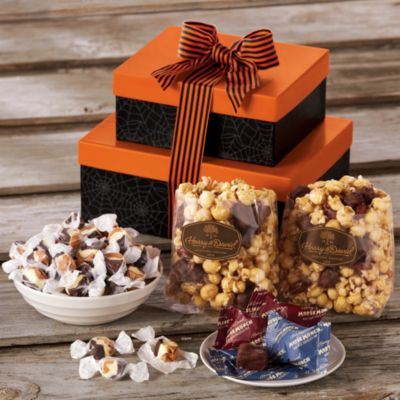 Halloween Moose Munch Popcorn Gift Tower
Price: $29.95
When Harry & David set out to create their own caramel popcorn snack, they ended up with something completely different. And way better. Moose Munch Popcorn is not your average caramel popcorn. Harry & David makes over 5 million pounds a year.
Available online from HarryandDavid.com (Get the latest Harry & David Coupons.)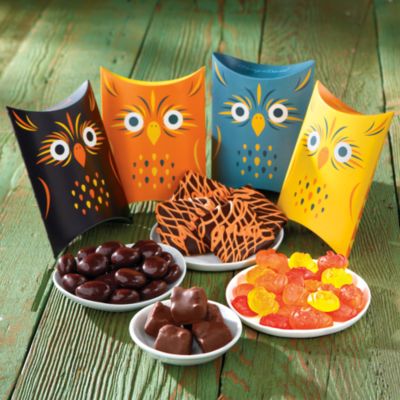 Halloween Candy Gift
Price: $19.95
You used to keep your stash of Halloween candy in a pillowcase under your bed. And somehow your little sister never found it. But when you get your Halloween treats in our exclusively designed owl candy boxes, you won't want to hide them anywhere. In four different colors, these owls contain tasty Halloween treats. We'll leave the tricks up to you.
Available online from HarryandDavid.com (Get the latest Harry & David Coupons.)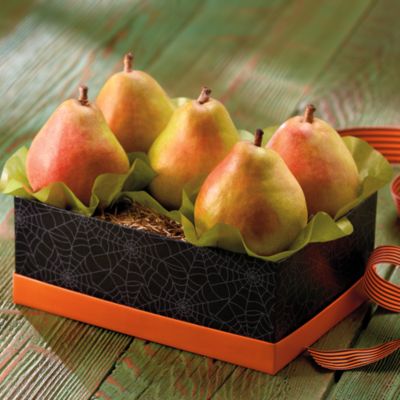 Halloween Pear Box Gift
Price: $19.95
It all started with pears. Really good pears. Pears so big and juicy, you eat them with a spoon. Well, that's what Harry and David used to say anyways. Their Royal Riviera Pears really are unique. Their fruit is soft and buttery. It might seem weird to describe fruit as being buttery, but the texture is so smooth, there's not really any other way to describe it. And they are loaded with juice. Too bad you can't squeeze juice out of a pear like you can with an orange. You'd probably be able to fill a juice cup with just one pear. And don't forget the flavor. These pears are so sweet, you might want to save them for dessert. With pears as sweet as these, you won't need ice cream anymore. Unless you're putting the pears on top. Wait, that's a great idea.
Available online from HarryandDavid.com (Get the latest Harry & David Coupons.)

Haunted Halloween Gift Box
Price: $39.95
Enjoy the flavors of fall in a gift box that's sure to be a conversation starter. It's not a trick-what's inside is most definitely a treat, perfect for sharing or keeping to yourself. It's almost like being a kid again.
Available online from Wolfermans.com
Get many more creative gift ideas on Momscape's Great Gifts Blog >