Holga iPhone Camera Lens
Price: $29.99
Now you can easily take those iPhone images and make them Holga images.
The Holga iPhone Lens and Filter Case (Black) snaps onto the iPhone 4 or 4S and once fitted, there are 9 different special effect lens and filters the go over the phone camera lens using the spin wheel, including a clear tenth hole to shoot regular photos with the case on – all without any software or app installed.
So cool.
Here's what the 9 lenses/filters do:
Dual Image Lens: Produces 2 identical images similar to a Holga 2 way split image filter
Triple Image Lens: Produces 3 identical images similar to a Holga 3 way split image filter
Quadruple Image Lens: Produces 4 identical images similar to a Holga 4 way split image filter
60mm Macro Lens: For taking photos at approximately 60mm from the lens
Empty Hole: For taking images with no effect
Red Filter with Clear Heart Shape Centre: Reduces absorption of blue & green lights with clear heart shape centre to stand out
Red Filter: Reduces absorption of blue and green light
Green Filter: Enhances green colors
Yellow Filter with Clear Center: Clear circular spot in center to stand out with surroundings in pale yellow to mimic sunset
Blue Filter with Clear Center: Clear circular spot in center to stand out with surroundings in blue to mimic gentle moon atmosphere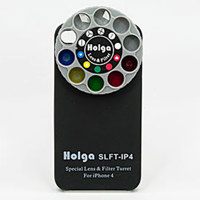 Comes in black, white, red, silver and purple. Available online from Adorama.com