By Cheryl Tallman, www.FreshBaby.com
Italian Wedding Soup is a classic Italian-American dish with a great mix of vegetables, pasta and tiny meatballs. Its name comes from the fact the meat and vegetable taste great together – they are a perfect marriage!
Ingredients:
2 quarts (64 oz.) Chicken Stock
1 carrot, diced
1 celery stalk, diced
½ cup Ditalini pasta (or small-shaped pasta)
1 pound ground pork
½ tsp salt and pepper
¼ cup Italian-style bread crumbs
¼ cup parmesan cheese
1 cup cut green beans (fresh or frozen)
1 (15 oz.) can chick peas (garbanzo beans), rinsed and drained
Directions:
In a large pot, bring chicken stock, carrot, celery and pasta to a boil. Turn heat down to medium and simmer for 7 minutes.
Meanwhile, make the meatballs. Combine ground pork, bread crumbs, parmesan cheese and salt and pepper in a bowl. Form mixture into ½-1-inch meatballs. Drop the meatballs into the simmering soup and cook for 5 minutes. Add the green beans and chick peas and cook an additional 5 minutes.
Serve with bread or homemade muffins. Italian Wedding Soup can be frozen in small portions for terrific warm-up lunches or after school snacks.
About the Author: Cheryl Tallman is the co-founder of Fresh Baby, creators of the award-winning So Easy Baby Food Kit, and author of the So Easy Baby Food Basics: Homemade Baby Food in Less Than 30 Minutes Per Week and So Easy Toddler Food: Survival Tips and Simple Recipes for the Toddler Years. Visit Cheryl online at www.FreshBaby.com for more delicious tips.
Learn more about Cheryl's work:

So Easy Baby Food Kit: Make It Natural, Make It Fresh.
Price: $23.85
An award-winning, all-inclusive solution for making baby food in less than 30 minutes per week. The month-by-month Cookbooks uses fresh ingredients with no additives. Kit includes a cookbook, freezer trays, how-to video, and nutrition card, and pays for itself in just three weeks compared to jarred baby food.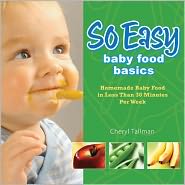 So Easy Baby Food Basics: Homemade Baby Food in Less Than 30 Minutes Per Week
Price: $8.95
Baby Food Cookbook including recipes and instruction for making stage 1, 2, and 3 baby foods. This book also includes the basics of introducing solid foods and developing healthy eating habits. Available in English and Spanish.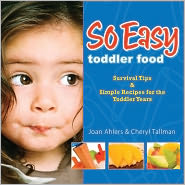 So Easy Toddler Food: Survival Tips & Simple Receipes for the Toddler Years
Price: $8.95
When it comes to eating, toddlers can be tough to please. So Easy Toddler Food is the perfect resource for parents looking for survival tips and 35 simple recipes that will win over even the pickiest toddler. Available in English and Spanish.